JAPANESE WELLBEING RITUALS
19 December 2018
Maud Ganry Boutaric
Dear readers,
On our travels across Japan last October we were awed by the various rituals this beautiful country has. We are pleased to share some of our incredible findings with you today.
We were so lucky to get to visit both Tokyo and Kyoto, where we had the opportunity to have a taste of the Japanese culture, a subtle balance between modern and traditional.
Two key words stand out when it comes to describing what we experienced; hygiene and respect. These two are no doubt very important for Japanese people.
What struck us first is how clean towns are; eating or smoking on the streets is considered bad manners. Also, everyone respects the common rules of living together.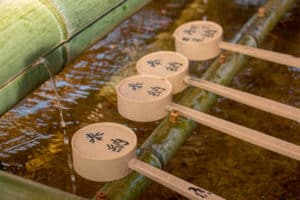 Besides clean streets and respectful citizens we were impressed in Tokyo when witnessing the purification ritual Japanese people follow before they access the Meiji Temple, a magnificent temple right by a beautiful park in Tokyo. Before entering any sacred sanctuary, Japanese people follow the Shinto purification ritual, by rinsing their hands and mouth with fountain water using wooden ladles. Temples symbolises the border between the world of the living and the world of the Gods. Any visitor must follow the purification ritual before crossing the threshold, out of respect. 
Beyond these basics of Japanese culture, we were particularly delighted when trying various well-being rituals there. We selected our 4 favourites; these fit with what you can find in our relaxation tutorials.
Shower and bath ritual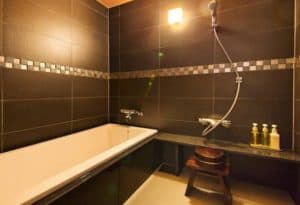 Shower and bath can become an incredibly relaxing moment. In Japan, you take your shower sat on a wooden stool. You usually place your belongings on a dedicated shelf and sit down to enjoy your shower. We tried it a few times and it really proved relaxing, the sitting position allowing you to completely let go of any tension in your body.
It's only after you showered that you can truly enjoy a bath, with the sole purpose of relaxing!
Onsens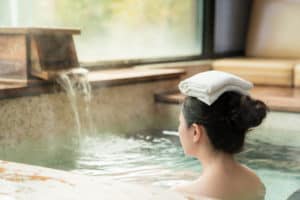 Onsens are Japanese well-being centres, a Japanese version of our western spas, where you can bathe in natural hot water springs.
We were lucky to experience the Tenzan-no-yu Onsen in Kyoto, where you can enjoy both indoor and outdoor pools or baths, fed by natural volcanic springs, as well as a Hammam featuring salt and cold water fountains. It's all laid out so you can alternate between hot and cold baths, enjoy a salt-based scrub, or relax in a sitting shower.
You can also book a massage, enjoy a meal at the restaurant or simply comfortably take a nap in one of the relaxation rooms after your baths. A true little urban spa, indeed
Self-massage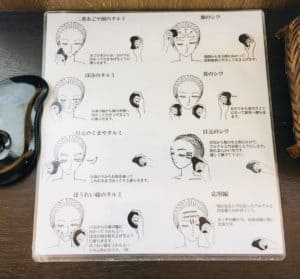 We were delighted to come across this ritual that we never recommend enough! Face self-massage is very common in Japan. It's known for relaxing tensions, easing headaches and lighting up your complexion.
Japanese ladies are very fond of face self-massage. You can find tutorials and guidance similar to ours in many well-being centres such as the Kyoto Onsen.
Matcha Green tea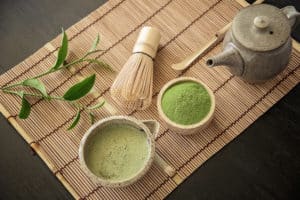 There's nothing like a good cuppa after a nice walk or a massage! Matcha tea cuppa of course!
This hot beverage is famous for its numerous virtues; detoxifying, stress-preventing and immunity boosting.
Matcha tea is made from Tencha leaves, the Japanese tea-plant. Unlike other teas, the leaves are not brewed but reduced into a very fine powder first on which you pour hot water.
Traditionally, Japanese Buddhist monks would proceed to a special tea ceremony to enjoy Matcha tea; the Cha No Yu, a calm, simple and pure moment.
Hoping we were able to make you travel, we wish a lovely day to all !